Certificates - In 1995, the company was one of the first in Italy to implement an ISO 9001 certified quality system, and, since 1998, it has been certified that the system conforms to the requirements of Annex XIII of Lift Directive 95/16/EC.
KOPPEL A.W. in 2011 also got a certificate of compliance with the environmental management system ISO 14001 and in 2014 it got a certificate of safety management according to OHSAS 18001.).


Certificate ISO DNV 9001, 2017


EUROFINS certificate of conformity of design to Annex XIII Directive 95/16 / EC. (2017)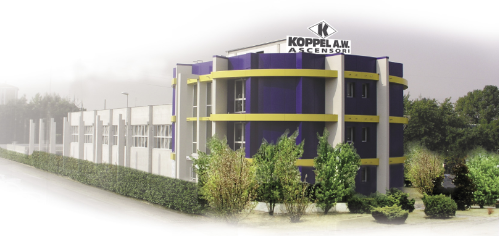 History - Koppel was founded in 1958 by Dr. Engineer Rodolfo Iotti, who was 38 years old at the time and had already acquired extensive experience working for large Italian and international companies in the lift sector, and since then it has dedicated all its energies to designing and manufacturing lifts and vertical transportation systems in general.
KOPPEL A.W. has been in business for over 50 years, during which time it has installed more than 10,000 systems in dozens of countries all over the world, and in particular, approximately 25% of the lifts installed in the province of Parma.
Established as a one man operation in the modest settings of Vicolo dei Mulini, 1 in Parma, as the company grew, it first moved to Via Verona, later transferring to more modern premises in the SPIP Via Mercalli quarter, before relocating to the brand new factory in Via Strasburg, close to the North-east Parma ring road in 2008, on the occasion of its 50th anniversary.
VIDEO KOPPEL

WE SPONSOR


FOR OUR GUESTS

...a list of the hotels, near the Koppel Haedquarters ...and elsewhere


DNV environmente managment by ISO 14001, 2014